New property purchase laws in 2014?
(18.06.2014)

Still there is no new law published.
Freehold purchase
It is definite that no foreign indivual can purchase property freehold in his name.
Purchase of property through a company structure is still tax-free, as long as the foreigner owns a maximum of 49% share of the property holding company. After 10 years in operation (= ten years of tax declaration!) the property holding company can be owned 100% by a foreigner. Please note that all this is common practice at the moment, but yet no law has been published on the subject matter. We are all still waiting.
Most professionals presently recommend the following:
Investment ONLY through SIA (special "Securities Investor Account").

Tax-free purchase via company structure, controlled by the investor.

Property holding with max. 24% foreign shareholding (because that's the maximum percentage defined in the still formally applicable law from 2002), instead of 49% foreign shareholding (which is present practice by the authortities but could theoretically been challenged in the future). The control exercised by the foreign minority partner bases on the wording of the contracts of the company structure not on 49% or 24% shareholding.
Further information and advice under info@lankaland.com
Lease: 15% taxes
As a foreigner you pay 15% taxes upon registration of a lease agreement. The value of the lease is defined by the Inland Revenue Department, Colombo. The lease for 99 years equals the freehold market value of the property. On a 99 years' lease you pay 15% of the property's market value. If a lease contract is signed for a period of e.g. 9 years, you pay 15% for 9 years, equalling 1.5% of the property's (freehold) value.
(24.02.2013)
Change of law in the making: foreign individuals can't buy freehold property in their name as private persons any more. The good old 99 years's lease - formerly tax-free - will now cost a tax of 100%.
However, don't worry too much! Sri Lanka wants and allows foreign property investment. Only now there is more red-tape to be tackled. There are legal ways to get you 100% freehold of a property you buy with your money, and you can also be sure to be able to sell your property later without tax problems to other foreigners in the future. Only real flipside: you have to expect 3000 - 6000 USD additional costs to fix the freehold purchase / ownership challange.



History: 100% TAX RE-INTRODUCED
(09.09.2004)
The government has re-introduced the 100% tax for foreigners buying property in Sri Lanka. From now on a 50,000 EUR property costs another 50,000 EUR in taxes. Plus 4% stamp duty.

Our recommendation: it is illegal to put a false price in your contract of transfer to avoid taxes. If you buy a rather "cheap" property some people might have a problem believing the price. To make sure that nobody has a chance to discuss your official buying price you should get a "valuation report" by an "incorporated surveyor" or a "government surveyor". Agree upon a fixed price before hiring the surveyor.

If you don't want to buy and pay 100% tax alternatively you can also lease for a period of 99 years. No taxes, only 1% stamp duty. You can build and demolish anything on your land during that period of time. There is a way to make sure you can buy the property anytime later from the owner even if the owner might have changed his mind.
History: On 100% TAXATION in 2011
Copyright: Reiner Niemeyer, 2004-2011
The Sri Lankan law allows the tax-free purchase of property through Sri Lankan companies with foreign shareholders. There are certain rules and regulations regarding the maximum shareholding of foreigners, the purpose of the company and even tax exemptions due to the recommendations of the Board of Investment. Every case is different and needs individual consulting. A good real estate agent will introduce specialized lawyers and company secretaries who'll provide beneficial solutions.

Copyright: Reiner Niemeyer, 2004-2006
Security - no problem
(01.11.2006)
Almost No crime
Crimes against foreigner are rare. Compared to other tropical countries Sri Lanka is a peaceful and safe place to live. Organized crime doesn't like the tourist areas of Sri Lanka - it's too small and there are too few tourists. Fortunately there is hardly any night life and prostitution in Sri Lanka's tourist destinations. The government does a good job to expell the local and foreign pimps and prostitutes who try to establish their business.
And it's very difficult to get a liquor license - that's why you don't see many bars on the beach.
This attitude against prostitution and alcohol makes Sri Lanka very unattractive for criminals and semi-criminals from all over the world. That's why the foreign residents almost all are decent "normal" people from 45 - 75 years who just want to live a quiet peaceful live.

Not affected by terrorism
Many people who are not familiar with Sri Lanka are afraid of terrorist attacs. They don't need to!
Since the fighting between the Tamil Tigers and the Sri Lanka army startet in the north and east in 1982 tourists never have been a target - unlike in Bali or Egypt for instance. Foreign residents have lived in Sri Lanka during about 20 years of continuous fighting and had no problems themselves. Why? Because the north and east are 10 hours by bus away from where tourists live. Only that no bus is going there. The areas are closed, the roads are blocked.
There have been very few comparatively small bomb attacks in the last 25 years. Some in Colombo (which has a rather tight and well working security concept since quite a few years), most close to the troublesome parts of the country (where you wouldn't even accidently be) and exactly one in the southwest (boat from the sea attacks high security military harbour - even if you had tried hard you would have had no chance to get involved). The risk for foreigners has always been very, very low.
In daily practise you only read of the trouble but you don't feel it. Just like at home. The risk of getting in the line is definitely lower than the risk of your holiday plane crashing into the ocean or to get hit by lightning in a summer storm - which means: you really don't have to be afraid.
100 m coastal construction ban lifted

(Following text was found on the official Sri Lankan Government website www.ejustice.lk on 09.11.2005)
"Government of Sri Lanka lifts the construction ban in 100 m coastal zone. The Govt. has decided to revise the 100/200 metre buffer zone implemented for the coastal belt of tsunami affected areas following the 2004 December tsunami devastations with immediate effect.
Under this new set of rules envisaged by the Government this buffer zone has been reduced to a range between 55-25 meters in the Southern Districts and 100 to 50 meters in the North East.
Centre for Environmental Justice filed a law suit in the Court of Appeal against the Cost conservation Department (CCD) to protect 10 meter -140 meter wide coastal belt which was identified by the CCD since 1997 after considering number of scientific parameters.
16/10/2005
Present (2013) situation
A long list of set backs has been written up and is the basis for building approvals now. Every region has a defined minimum distance from the first vegatation on the beach to the outmost wall of a building, ranging from 35 - 125 m depending on location.


THE PEOPLE
Nowhere in the world you find as many open, friendly and helpful people as in Sri Lanka. Here they welcome the foreigner - whereas in many other tropical countries the foreigner is strongly disliked.
Especially in the rural farming areas starting only a few hundred meters beyond the touristy spots you'll encounter - and enjoy! - an unspoiled kind of Sri Lankans whom you will like immediately.
One of the reasons to come to this tropical paradise is the optimistic and relaxed attitude of most of the locals.
Copyright: Reiner Niemeyer, 2002, 2003.
VISA
When is the season?
Most foreigners stay up to 5 - 6 months per year in their house - from November through March. That's the season from Negombo to Tangalle (west, southwest, south coast).
Mid April Sri Lankans celebrate New Year - a big turmoil and chaos. It's better not to be in Sri Lanka during New Year or the week before.
May, June and July are very hot and wet (monsoon). August is a fine month again, but a little hot. The same is true for September to October. However, high season is during the european winter.

After half a year in Sri Lanka most foreign residents go back to the west where it's nice in spring and summer. And in addition the west has quite a few other advantages, doesn't it?
Why not enjoy the west during the better months of the year and then again look forward to return to Sri Lanka first week of November?

Visit Visa (tourist visa) for up to 6 months per year
Up to September 2011 you get a 30 days tourist visa on arrival free at the airport. From 01. September 2011 on everybody (!) should get an online visa prior to visiting Sri Lanka, even for a one day visit! In 2013 the situation is that everybody should have an online visa upon entry into Sri Lanka.
You can get a 3 months tourist visa from Sri Lankan Embassies in the west before flying to the island (ca. 40 US$). Since 2012 you can't just go to the Sri Lankan embassy in your country and wait for the visa to be issued. The embassy has to check with Colombo and you'll have to wait 3 - 4 days for your visa.
When in Sri Lanka you can extend your 3 months visa for another 90 days in Colombo (Department of Immigration in Colombo) (approx. 120 US$). If you have entered on a 30 day visa you have to go twice for extension and you might face problems. Better enter Sri Lanka with a 3 months visa from the start.

You have to have a return ticket and sufficient money (officially you are expected to spend 30 US$ per day). You should be able to proof that you have exchanged 1500 US$ when you apply for extention. Often - but not always - the officer will be satisfied when you show your credit card.
As a tourist you should not try to fool anybody about your reason of stay: it's holidays. Some have claimed that they are "involved in charity work" - but unfortunately it's prohibited to work even for free with only a tourist visa. So please forget all the lies and tell the truth. You are in Sri Lanka to enjoy yourself and spend your money on holidays in your little holiday home.
A further 3 months (summing up to the maximum of 9 months per year) is possible "on discretion of the officer" - mostly granted, but you don't have a right to get more than 6 months.
The exact costs depend on the country you are from.
Average total costs:

Total 3 months = 40 US$ (SL embassy in your home country)
plus 3 = total 6 months = 40 + 120 US$ (Colombo Department of Immigration)
plus 3 = total 9 months = 40 + 120 + 170 US$
For details click here.

Retirement Residency (2 years, renewable)
If you are 55 years old, you pay a deposit of 15,000 US$, proof sufficient income (= 1,500 US$ monthly for you, plus 750 US$ for your spouse) from abroad, and health insurance. Important: there is a special and very low price health insurance ONLY for retired visa applicants in Sri Lanka. So don't worry about your western - super expensive - coverage, which will not be accepted anyway.
You get a visa for two years, costing 200 US$ per person per year, which can be renewed. For details click here.

Resident Guest Scheme Visa (up to 5 years)
Any foreign investor / professional who could contribute to the economic and socio cultural enrichment of the country can apply for a Resident Guest Scheme Visa.
Investors have to invest a minimum of 250,000 US$ in an approved (mostly BOI) project within the first two years of their visa.
Resident guests have to prove an income of 2,000 US$ per month from foreign sources.
For details click here.
Residence Visa
Only if you are accepted as an employee of a BOI approved company/project you'll get this type of visa and may be legally employed by a company.
For details click here.

Married in Sri Lanka
When you are married to a Sri Lankan you can get residence visa and have to renew it regularly.

BOI recommendation
If you have a B.O.I. approved business, you and your "attached housewife" will get a resident visa and have to renew that every year. For BOI approved business you need a mimimum investment of 250,000 US$ (in practise 150-250.000 US$), and you are subject to bookkeeping and
special scrutiny
. You need lawyers and
and professional "company secretaries"
to
handle this process
.
Copyright: Reiner Niemeyer, 2002, 2003, 2004. 2005-2006
BUYING PROCESS
You decide, which property you want to buy.
Since February 2013 you have to complete are more complex process prior to purchase then before. Due Diligence, Valuation Report, various paperwork, money transfer through to be activated bank accounts, drafting of contracts etc. will take not less than 14 working days. A good part of the legal work can be done by specialized trustees with Special Powers of Attorney after you have left the country.
However, we recommend that prior to your visit you instruct the bank in your home country to transfer money to your new Sri Lankan bank account if you advise them from Sri Lanka. For banking in Sri Lanka you will also need proof of your home address in form of a utility bill (electricity, gas, taxes, bank statement etc.) that is not older than 2 months. Internet prints or photocopies will not be accepted. If all your bills come online go to your local bank and let them certify on their letterhead that you are a known client and known to live under your postal address.
Please take this issue seriously. Banks are forced to see your passport and a proof of your postal address that complies with their rules.

The sale is simple: seller and buyer meet in front of the notary where the seller transfers the freehold of the property. The signature of the buyer is not needed!
Attestation is usually done at the lawyer's office, but sometimes a hotel or private house (quite a few local sellers don't want family members or neighbour to know that they sell something and have money in their pockets.)
The transfer is valid from moment of signature.
The lawyer will get the transfer registered at the local Land Registry. That takes 2 - 10 weeks. It's difficult to speed it up registration.
Property is bought by bank draft (you need a special local bank account!) or in cash or by bank to bank money transfer.

Copyright: Reiner Niemeyer, 2002, 2003.
ADVANCE?
Probably you don't have 40,000 US$ in your pocket. The prove you want to buy a property you might deposit 10 - 20 % of its value - there are various options how to do that and secure the money by a lawyer, trustee or other middleman.
The shorter the period between advance and final buy the better. Don't let too much time for the sellers to get "new ideas".
For the final purchase act you don't have to be present in Sri Lanka. One can find lawyers who write up all contracts and accept that you are represented by a trustee who enjoys the power of attorney issued by you - this is a not uncommon procedure among foreign purchasers and involves only little costs (according to the quality of the lawyer and the trustee). On the other hand it save you an additional airfare.
Copyright: Reiner Niemeyer, 2002, 2003.
TAXES - FEES - EXPENSES
All transfer costs (lawyer, stamp fee, tax, registration) are calculated on the grounds of the selling/buying price that is written in the contract.

If you have a certified document by a Government Valuer you can prove that the figures in your contract are not lowered for tax evasion purposes.

Stamp fees for taxes and registration:
since February 2013 1% stamp duty plus 15% taxes on the property's market value (!) if you are a foreigner leasing property in your name
zero % taxes plus 4% stamp duty in case of freehold purchase by using the procedure the law opens for foreign investors (= investor controlled company structure). Please note that there will be handling costs of 3000 - 6000 USD

1 - 4% of buying price for lawyer (mostly 2%)
(usually) 5% agent's fee to be paid by the buyer
Example: the purchase of a 200,000 USD property will cost you all together approx. 25,000 USD
As in the west, in Sri Lanka you find lawyers who are also able to handle more complicated matters (e.g. involving trustees, power of attorney etc.) and - here - have certain influence to speed up the process. Those lawyers / attorneys at law might ask higher fees. So, as ever, it's a good idea to ask for the price before you decide.
Copyright: Reiner Niemeyer, 2002, 2003. 2006
Beware of faulty "book values"
(2014) If one - foreigner or local - tries to cheat the authorities by attempting to cut down stamp duty and/or tax by simply inserting a low value into the sale/purchase/lease documents it can backfire severely! If the authorities consider the value substantially higher they'll ask for taxation of the difference plus impose a fine of 100 - 300%. Government officials are encouraged to unearth tax dodgers by monetary incentives going to their pockets. One can imagine the consequences.
To avoid discussion and penalties one should get a valuation from the Inland Revenue of the province the property is located in. This valuation is called "Certificate of Opinion", might be written totally in Sinhalese but should have a figure printed in very bold letters denominating the asssed value.
FINANCING AND BANK LOANS
No seller will accept a by and by payment - he wants his money all at a time, and cash.
No Sri Lankan bank will help you finance any property or loan money to you. Mortgage? Forget it.
No foreign bank will help you either.
So you have to have the money in your pocket.
BROKERS AND MIDDLEMAN
The commission
(Updated 04.01.2005)
Varies from property to property (depending on the local partner involved). In the market of property for and from foreigners middlemen or brokers are mostly paid by the seller and the buyer. Percentages may vary - ask!
You might make friends at the beach who promise you they get you a decent property for free. And take care of it for free. And act as your frontman for free. And know a good lawyer. And are rocket scientist and can successfully replace your heart by a goats heart in case of you having a heart attack.
Usually your chances of not getting cheated are best by using the services of professionals who are in the market since many years and pay them for their services. The money one might believe to "save" by trying on one's own and depend of "friends" will regularly (!) be lost manyfold in the further course of one's engagement in Sri Lanka.

Copyright: Reiner Niemeyer, 2002, 2003, 2004, 2005.

MONEY TRANSFER
All deals have to be done in rupees. That is the legal way.
There are various safe and legal ways to get larger sums into the country: by opening a bank account and send the money from home or (very rare!) by using the services of a lawyer as a trustee who has a foreign currency account.
In case of investments with freehold purchase beyond 70,000 USD it's strongly recommended to make the investment through special investor's account opened in the name of the foreigner. Ask any professioal agent for details, benefits and recommendations.
For smaller sums (e.g. advances) cash or traveller cheques are handy. Money can be drawn by VISA or sent by Western Union (highest fee!).
It's a good idea to have someone at home who is entitled to send money from you bank account at home by telex bank transfer (SWIFT) to Sri Lanka. Find out the SWIFT code of the Sri Lankan bank branch. It makes things one or two days faster. A SWIFT transfert shouldn't take longer than 5 work days.
There are no IBAN numbers in Sri Lanka.
RESIDENCE - ENCLAVE - HOTEL?
Private residence / house
Most foreigner live in their own houses on their own land. They come for five to six months in the winter. Hardly any house is used from May through October - yet.
Today holiday home, later retirement
That's what most people plan - and finally do. Most of the winter residents of Sri Lanka are beyond 55.
Enclaves - the foreigners "cluster" settlement
For a foreigner it's best to live next to others of his kind. So why not build 3 - 8 houses on a larger land, share the care-taking, the gardener and the security and maybe a large swimming pool with others?
As a rule of thumb: for a house and you own garden you need 500 - 800 m² in such an enclave to be more than private.
Copyright: Reiner Niemeyer, 2002, 2003.
STARTING A BUSINESS
Start a guesthouse or hotel
Why not? You can open businesses with or without local partners, with or without BOI approval. Your agent will be able to give you a few examples of options and get you in touch with the best legal and business advisors. As long as you pay taxes you are welcome.

BOI approved businesses
Board of Investment (BOI) approved businesses can be very rewarding - but you need professionals to help you with the approval process as well as with maintaining the business according to the BOI rules. There are specialised consultants offering those services.
Taxes
Sri Lanka is a tax haven only if you operate a BOI approved business. Else you have to face up to 24% taxation of profits (2014). Note that the tax laws only allow lump 25% percent of the revenue in tourist oriented rental as costs. So if you rent out for 1,000 USD you pay 180 USD (= 18%) taxes. Note that there are various other taxes besides income tax.

Copyright: Reiner Niemeyer, 2002, 2003.

CONSTRUCTION
Building a new house in an ideal design
From the experience of many others there are some factors to be called "ideal":
large veranda
master bedroom with high concrete ceiling
attached bathroom with hot water (lower ceiling)
living-/working-room
walk-in closet for dry and good smelling cloth
utility room, serving various needs - accessible independently from outside, used as room for the caretaker in the off-season
kitchen with access to veranda
Few limitations to construction
In Sri Lanka you can almost build as you like and where you like.
Draw a plan, have it redrawn by a local architect and file for approval. It will be granted if you let professionals handle the matter.
Don't let local or foreign amateurs talk you into skipping the red-tape. You will depend on a decent documentation of your house approvals latest when you want to sell.

Construction at the beach
Only at the beach there are some restrictions: you may not build higher than a coconut tree (3-4 floors) and you can't build high walls to the beach. Beach is public property so you are not allowed to block public access to the beach.
There is a set back regulation for beaches, forcing you to construct new (!) buildings 25 - 55 (or more) meter off the first green on the beach. Exceptions are possible on a case by case basis.
Renovation of existing buildings on the beach are easier to get approved.

Costs
Up to the quality. You find prices in new papers and should enquire in your community.
Contractor
Good contractors with reputation can be found.
When you build, you should expect a minimum of 6 months for the construction.
If you don't want to control and supervise the contractor, you should hire a qualified supervisor.

Renovating and altering an existing house
No problem. You need a new bathroom and an altered kitchen to move in. If you have the time, get the roof brushed up - thats the important part of the house here.
You'll find contractors or neighbourhood craftsmen to do the job.
The colonial house
Do you like oldtimer cars? They might not be a fast or reliable as a brand new contemporary one - but they have charme and need loving care. Same with old houses...
They can be turned into a modern time beauty, but you need love, time and money. But again: the daily salary of craftsmen is very reasonable
Check the roof! Everything else is minor.


Why not build a brand new colonial style house?
Yes, that can be done! There is a successful example you could see in Galle: the "Dutch House" (next to the "Sun House") on Upper Dickson Road. They have built a replica of the existinc 18th century house next to the original. You can't tell the difference. What a great place. Visit www.thesunhouse.com/doornberg.html
Copyright: Reiner Niemeyer, 2002, 2003.
Beach house
Do you want to live at the beach?
You'll have to fight corrosion there.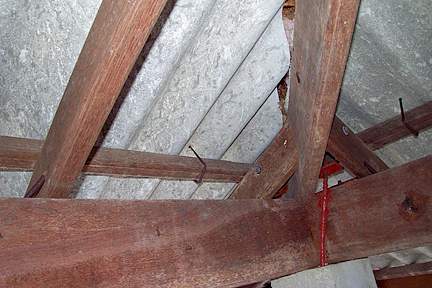 This roof is 1,000 m off the beach. The zinc plated hook under the roof looked like that after 3 years: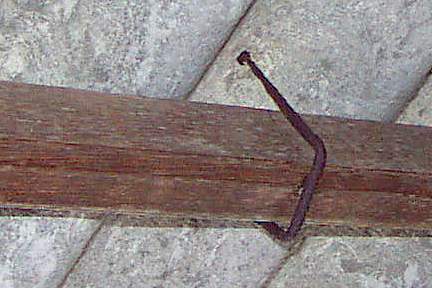 White "Asbestos"
The asbestos sheets consist of not friable chrysolite (white asbestos) cement. In contrast to the amosite and crocodilite based asbestos (blue fibre asbestos) that is used in the west for insulation purposes the chrysolite material is not considered a health risk or carcinogenic (see EHC53 of WHO/IPCS).
Even the process of manufacturing (WHO EHC 203) is 10 - 15 times less "dirty" than the health risk level of the WHO.

More here and here ....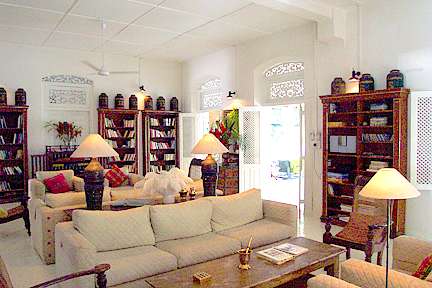 Ceiling with flat asbestos sheets
A - Old time roof: U-shape tiles on a construction of wood. That's how they did it in the colonial times. Unfortunately these roof always leak and are very troublesome. Looks nice, but nobody wants that kind of roof, frankly.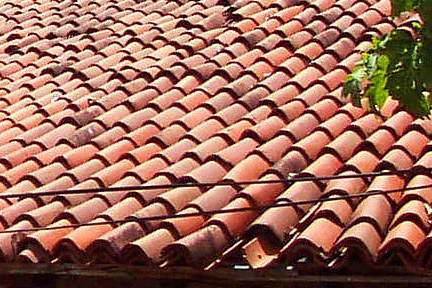 U-shape tiles - these are new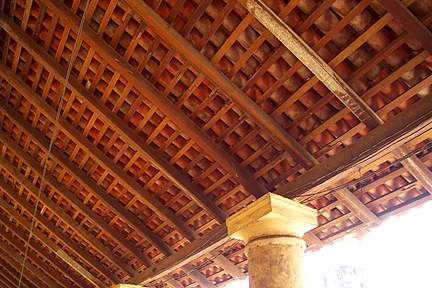 Typical "old" roof - always leaking
B - Flat tile roof: modern flat tiles from clay like mostly used in the west. The tile are supported by wooden construction. No leak problem (when grade 1 tiles are used; grade 2 vary in size and are not as hard). Looks okay (though without the colonial charme) from the outside. From the inside it looks okay for a veranda roof, but in the house you don't want to look at these tiles.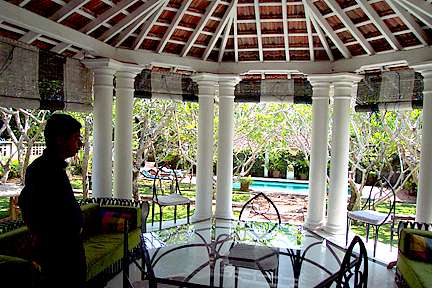 Veranda with plain flat clay tiles
C - Flat concrete tiles: look like the clay ones but are cheaper and more even. Rather ugly from the underside, so they need some cover from underneath.
D - "Asbestos Sheets" (corrugated Chrysolite Cement sheets, "white" asbestos, not friable, no health risk): allows roofs that are much less sloped than flat tile roofs (angle like the old colonial roofs - but without their disadvantages. Best waterproof qualities. May be painted (red or green most common). Looks ugly from top and underside.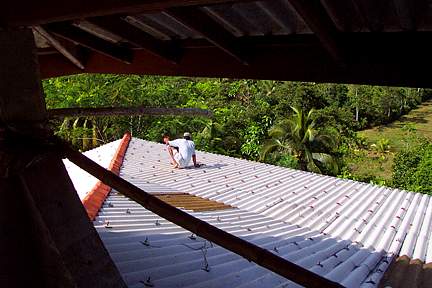 The bare asbestos roof is ugly and heats up. One should place U-shape tiles on top - see "Sandwich Roof"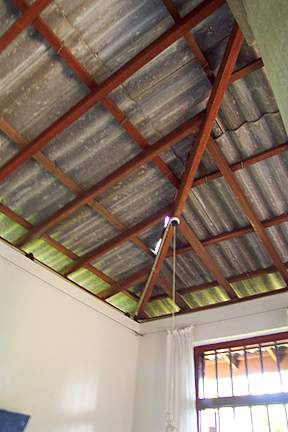 Underside of corrugated white asbestos roofing sheets - ugly. Should be covered with wood between beams
E - "Colonial Sandwich Roof": Asbestos sheets (C) in the middle is the basis of that concept. On top you put the old fashioned U-shape tiles (new or 2nd hand), because they look colonial and absorb the sun, so that with this system the asbestos sheet won't get heated up. But you have to have a stronger framework under the roof to hold the extra weight of the tiles. Underneath the asbestos sheet you nail wooden planks to the wooden framework under the sheets. That kind of roof just looks perfect and is functional as well. Only it costs more.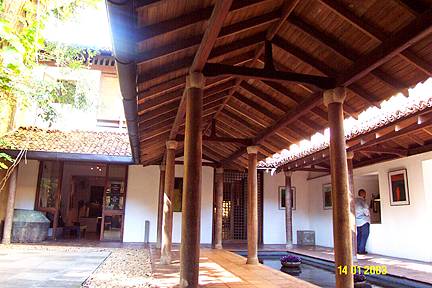 Sandwich roof - best looking, but most expensive
UPKEEPING - MAINTENANCE
It's not very costly to have a house in Sri Lanka.
In many cases it's enough to have a neighbour look after the place.
The closer to the beach the higher the costs for renovation and repair.
Property Taxes
After having bought your property you hardly pay any taxes for house and land - something between zero and 40 US$ per year.
COSTS OF LIVING

It's up to you - but it definitely is not as expensive as in the west.

Copyright: Reiner Niemeyer, 2002, 2003.
WHO LOOKS AFTER THE HOUSE IN THE OFF-SEASON?
Holiday properties in Sri Lanka are much less subject to burglary than for instance in Italy or Spain. You don't have to be too worried.
Nevertheless it is a good idea to have someone look after the house:
If you have direct neighbours in a middle-class neighbourhood you mind find one of them trustworthy and reliable enough to look after your house.
Many people hire a night guard - a person who sleeps on the veranda or in a servant room.
A permanent care-taker who also sleeps on the property could be hired as well. He should be responsible for security, garden and the dog. If you want someone to supervise and control your care-taker the costs will rise.
Many foreigners have a family living on their premises: during the season the family moves to their own small house nearby; during off-season they live in the rooms of the foreigner's house. Often the master bedroom and the bathroom will be locked off. Most houses have an exterior servants toilets/bathplace.
The local houses (colonial as well as modern) and the sensibly built houses of westerners have an interior area, that can be locked off, and rooms that can be used by servants during the off season.
Some foreigners give the key to the lock off parts to their care-taker, so he can access these parts of the house for cleaning and ventilating by opening the windows. Others, who are not quite sure (yet) of their (new) servant's quality, might have an external supervisor - mostly a upper middle-class neighbour or a businessman who has no direct relationship (family ties) with the care-taker. The supervisor shows up without notice to check the work of the care-taker. In case of emergency the supervisor is called by the care-taker, checks the situation and contacts the foreign owner.
Copyright: Reiner Niemeyer, 2002, 2003.


FACILITIES OF THE HOUSE
Telephone in the home
Not many houses have cable bound telephone. Usually one has a wireless connection - same quality of transmission, fax and internet can be operated immediately.
Connection will be installed within 1 - 2 weeks after ordering it. Leading company is "Suntel".
Getting connected will cost between nothing and 50 US$.
Local and international calls are cheap.

Mobile phone
Very good coverage in all coastal areas.
You can select from a handfull of providers and get prepaid services. Leading company "Dialog".
You can use your mobile phone from the west.
Internet
Wireless G3 broadband is available. You pay per day, per GB, or a flatrate. The prices are a bit higher than in the west.
Electricity
Practically every house has 220 V electricity (mostly 2-phase, business places 3-phase, which doesn't make a difference nowadays).
Electricity is cheaper than in the west as long as your household consumes little. Energy wasting is punished by higher rates per kW hour.
Water
All houses (with very few exceptions on the beach) have their own well. With an electric pump you pump the water into an elevated watertank (exterior water tower or under the roof), where it's stored for use.
Westerners usually boil their drinking water before using it.
Toilet
Every house has a toilet pit / septic tank with one, two or three chambers. In most cases only the toilet is connected to that that - water from washing basins, shower or kitchen is directed into the garden.
In the tropical climate bacteria decompose the material in the toilet pit. So toilet pits are not emptied like in the cold west.They also don't smell bad.
Copyright: Reiner Niemeyer, 2002, 2003.
VEHICLES
You can rent cars from professional car rental firms from 15 USD per day (2013).
In areas with tourism many local families who are involved in touristic services own a van and are only to happy to drive you around for little money. You need a mobile phone and five telephone numbers to be completely mobile.
Even more people own the local short distance taxis (threewheelers, also called tuk-tuk). Many have a mobile phone. Most important are the phone numbers of the shops at the junctions where the tuk-tuks wait for customers. Call the shop to send a taxi - that's it.

You don't need a car or a threewheeler yourself! Spare yourself the risk of breakdowns and the trouble of repairs! Better spend your money using local services.


Copyright: Reiner Niemeyer, 2002, 2003.
EMPLOYEES
Plenty of people speak enough English to understand your needs.
Many employees work without contract and without being officially registered. That is legal when someone works on a "day to day" bases (like labourers you hire for gardening or construction projects).
If you hire a permanent employee you should register that employment. When you register and spend an additional 10% of the wages for the EPF you can be sure that after you lay off the employee will not trouble you.
When a Sri Lankan boss lays off an employee he makes sure the employee doesn't loose face. He'd never shout or accuse - just terminate the job from one day to the next.
It's good practice to give a little compensation (half salary) even when the reason for the lay-off is something like stealing. You should have the former employee write a document in his handwriting stating that you don't owe anything and that he has no knowledge of any illegal activity done by you.
In Sri Lanka families and businesses have strict hierarchies. Sri Lankans prefer a clear hierarchy to western style informal "teams" - in fact on the domestic level some people are completely lost with the western idea of team. They prefer to be told what to do and be controlled.
Everybody is used to accept the boss as the boss. Conversation will stop when a local boss steps into vision. Every employee will raise, caps will be taken off the head. Employees try to prevent direct eye contact - western often misinterpret this as a sign of bad conscience, but it is a matter of respect.

Respect the hierarchy within your "work force" - from top to bottom supervisor, care-taker, gardener, night watcher, labourer/helper (mostly daily basis), female servant (or wife of any employee).
When you allow the "lower ranks" to talk to you directly, you intimidate the higher ones. Don't ever openly confront anybody, especially not your most important man. However right you might have been in the eyes of everbody, the moment you make someone loose his face you've made a mistake.
Copyright: Reiner Niemeyer, 2002, 2003.
Respect the fact that many employees want to see in you the "master", "sir"/"madam". Keep enough distance, don't force anyone to be treated "on an even level" - that feels very uncomfortable for employees here (and has spoiled many in the long run).
Be careful with presents. A local boss would hardly give any gifts at all (maybe after years of service a new 5 - 10 US$ sarong for New Year (mid April).
Don't pamper the children of you servants/employees. It intimidating for the parents when the "rich foreigner" gives presents to the "cute little kids" that their parents could never afford.
Don't accept invitations of servants / employees. In fact no local servant would ever have the idea of inviting his boss to his home.
You can accept a little present (coconut or fruit) or flower from the garden as a sign of gratitude and shouldn't feel obliged to return immediately. It does no harm to give little presents like a cup of ice-cream or a little cake (local taste) to your people. Never force them to take from the same plate or bowl as you. Accept when they don't eat the treat at the spot but prefer to take it to their family house.
Hardly any Sri Lanka boss would invite servants / employees to be his guest. Many feel uncomfortable even when they are invited to sit at the table of the boss.
Employees usually will never set foot into your private quarters except when ordered to. Respect that custom. Never, under no cirsumstances, confront anybody with nudity!
Be careful with advances. Giving an advance means a guarantee for a job regardless of the performance of the employee. On the other side advances are necessary in case of emergency. Let your care-taker handle all these matters and discuss with him alone. Make it difficult to get an advance.
Copyright: Reiner Niemeyer, 2002, 2003.



LOW CRIME RATE
Compared to western countries Sri Lanka is peaceful and safe. When things are stolen from a foreigner's property it often has been the fault of the foreigner himself: careless with values (and everything has a value in this country), careless with false friends.
Make sure your employees have the right attitude. Ask middle class Sri Lankans for advice. Ask employees for recommendation and talk to their former employers.
SECURITY
Look what the local middleclass is doing: a wall is a good idea, but often a fence will do.
Everybody has a dog.
You close your house in the night.
That's all.
In every country in the world there are some neighbourhoods one shouldn't live in. Same in Sri Lanka. Ask locals and western residents which are the less desireable areas.
HEALTH
There is no malaria in the west, south west and south of Sri Lanka.
Snakebites are extremely rare - forget about that.
No other animals will harm you.
In case of health trouble you enjoy a good infrastructure for immediate help. If you should need major attention there is a fantastic private hospital in Colombo ("Apollo"), that attracts "health tourists" from the Emirates, Hongkong and all Asia - it's western standard, fully equipped, very professional - but cheap.
If you need an operation in Europe you should consider to go to Colombo to have it done!
Copyright: Reiner Niemeyer, 2002, 2003.

Sri Lanka - ideal for foreign residents
Many experts think Sri Lanka will become the "Tropical Mallorca" for europeans and asians in the near future. Comfortable and safe living is easy - at very modest prices. More than 200 foreigners own houses in Hikkaduwa alone.
Why Hikkaduwa?
Here you find the best infrastructure to meet the needs of the foreigners. Whatever you need for a comfortable living you will get here: "local" as well as "western" restaurants, supermarkets, building material, tools, cloths, laundry, taxis, internet and much more.
Last but not least you meet a lot of westerners here who share your lifestyle and you can talk to.
In other parts of Sri Lanka you dont find that - yet.

Sri Lanka the Beautiful
Endless beaches, spectacular hill side, green and flowers like in a botanical garden. This island offers all at close range. From the surf beaches to the cool hill country of Nuwara Eliya or Kandy you only spend a few hours on the bus. Swimming, diving, trecking, eco tours - all that and much more SriLanka will offer you.



Political Situation and Stability
The war is over. And even during the darkest times of civil unrest foreigners have never been the victims of the conflict.

Foreigners can Officially Buy and Own Land and Houses!
You can buy land in Sri Lanka freely. This is impossible in most tropical countries. In Sri Lanka you can be the official owner of that land!
You have to pay 100% taxes and Stamp Duty (= 4%) after buying property. To avoid misunderstandings and the accusation you have bought for a higher price than stated in your contract of transfer you should better get a evaluation report by an incorporated surveyor.


What to consider...
Sri Lanka is a little different from your home country. The people, the land, the climate require considerations that one gets familiar with by experience. In order to save your time and money I'll happily point out all aspects that could be important to your "settlement" and life in this beautiful country.

Building a house
There are hardly any restrictions to consider when you plan or build your house in Sri Lanka. And of course it is comparatively cheap. Most materials, that one needs for a western standard house, are now available.
Contractors or single masons, carpenters or electricians can be hired. Recommendations can be given to you by neighbours or other foreigners.

Texts and photos: Reiner Niemeyer

E-Mail: info@lankaland.com