The Gated Hilltop Community near Hikkaduwa and Galle, Sri Lanka
Buy a turn-key villa

or


get your custom villa built
OPTION A - Turn-Key 2 bedroom
This turn-key villa with pool and 10 km view is for sale at 148,000 USD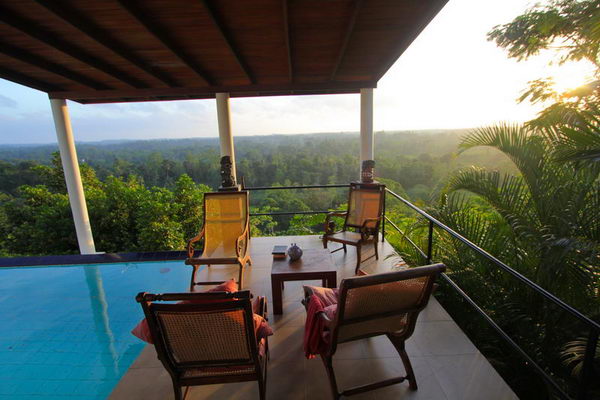 Enjoy this 10 km view to the west (sunset).
Buy turn-key villa with 2 bedrooms, pool, 1,500 m² garden for 148,000 USD.
Contact: info@cinnamonheightsestate.com
OPTION B - Custom Built
Display villa - sample of a luxury villa custom built for a client
(420,000 USD)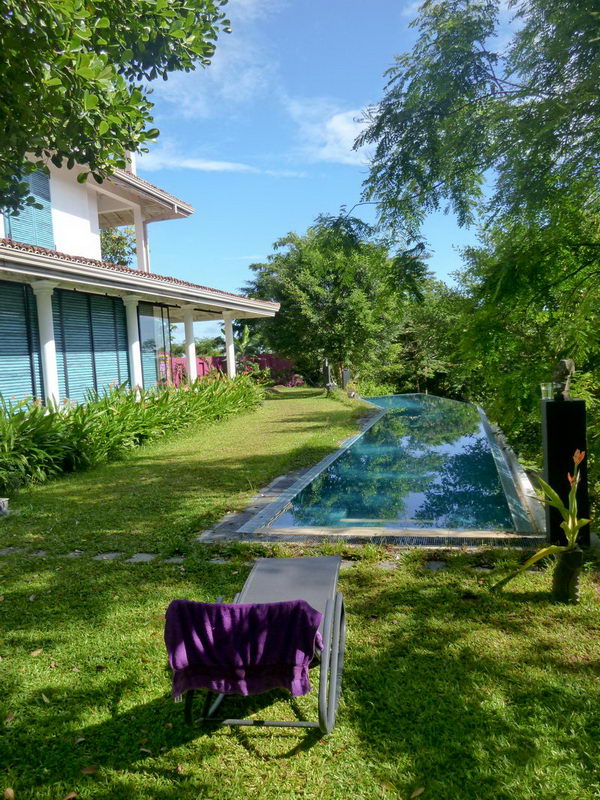 We built this 3 bedroom villa for a European artist couple aged 54 and 60.
18 m lap pool with infinity edge and 10 km view. 4,000 m² land.
Owner's statement:
"We didn't expect life here to be so wonderful. It's an all year's paradise. Perfect not only for artists like us."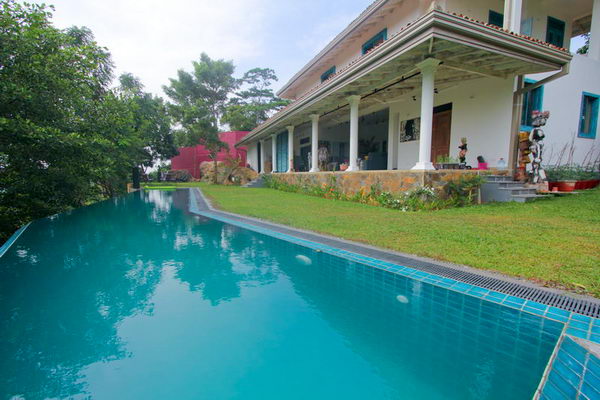 250 m² (= approx 2,750 sqft) house:
3 large bedrooms (all with en-suite bathroom and walk-in closet)
1 small guest room
75 m² sitting / dining with veranda (13 metres sliding glass and louver front against rain, wind and too much sun)
1 western kitchen
1 office room (can be turned into a second kitchen)
1 large store room
1 guest WC
Plus these extras:
30 m² rooftop platform with fish pond and in-pool sitting area
50 m² double garage
Pottery studio (15 m²)
Bathroom with shower under the pool deck
Staff bathroom with shower (attached to garage)
Owner's statement:
"People always expect this large house to be quite demanding. Wrong. Twice weekly there is a cleaning woman for five hours each time. Two days per week we have a local farmer keeping the garden in shape. Our electricity bill is limited to under 80 US$, despite pool pump, three fridges, a deep freezer, washing machine, dryer and a dish washing machine. We use solar hot water and hundreds of super efficient LED lamps to illuminate house and garden."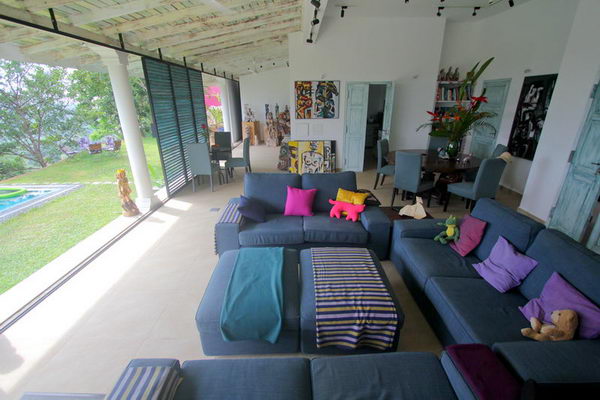 You may visit this house and its owners enjoying their dream life here all year around.
Owner's statement:
"Do we live remotely? Absolutely not. We both enjoy driving our minivan. 20 minutes to the beach, 35 minutes to Galle Fort, under two hours to downtown Colombo, the capital. Who would complain about figures like this in the west?"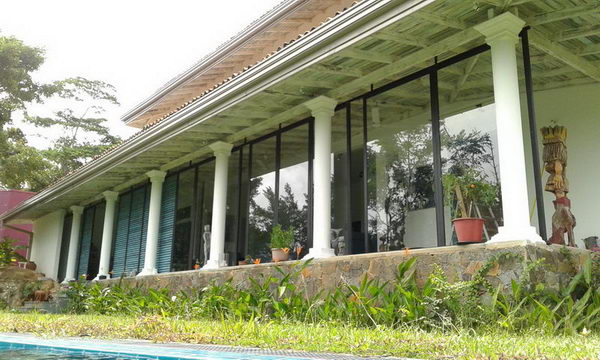 The 13 m sliding glass and louver front makes this veranda a cozy living room even during a fierce rain storm. It keeps the place cool despite the afternoon sun.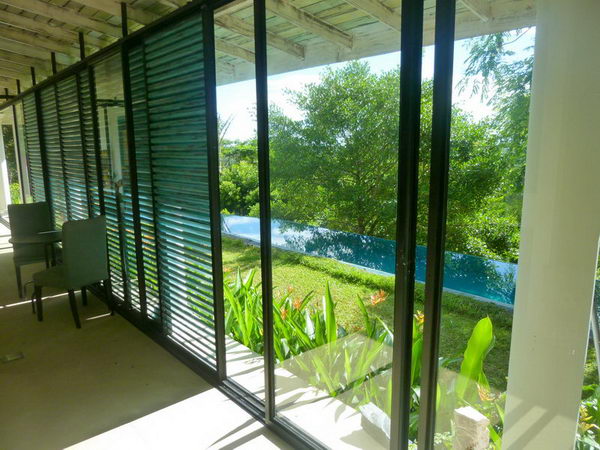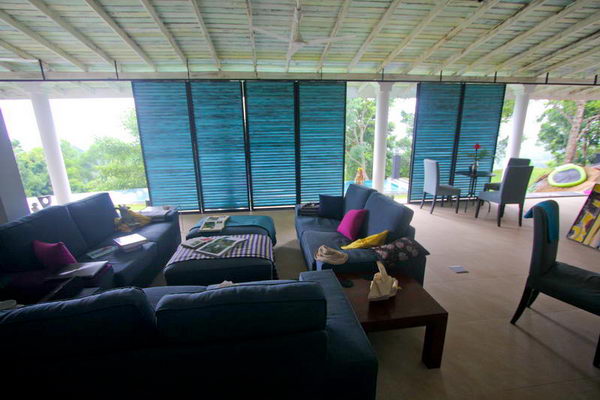 The sliding verandah louvers shield of the afternoon sun that otherwise would make it unbearable to sit on the veranda, heat up the floor and thus the sitting room which in consequence heats up the room until midnight. Plus no sun will hit the fabric of the curniture which therefore doesn't bleach out. If not needed the six louver units will be pushed into four meter long wall pockets and become invisible.
Owner's statement:
"This is the only house that we have seen in Sri Lanka where you stay comfortably in your sofa during a rain storm or an otherwise unbearably hot early afternoon sun, while constantly enjoying the views of garden, flowers, pool and birds. It's a perfect architectural concept."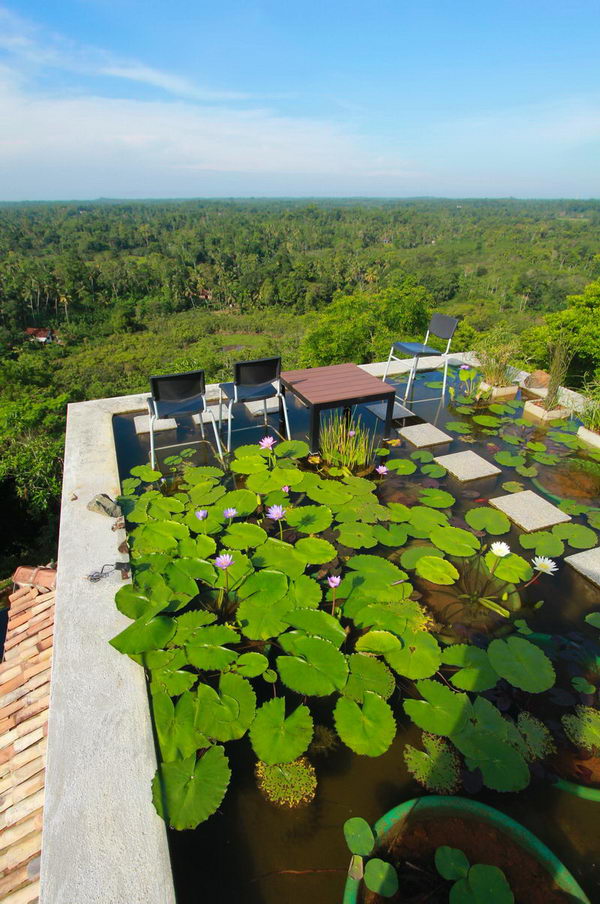 The owners of the villa come here for sunset to have a gin and tonic, often with friends and visitors. They feed their fish and enjoy the most spectacular view: 18 km to Galle (south), 10 km to Hikkaduwa (west), and to the east they see the silhouettes of mountains approx 50 km afar.
Owner's statement:
"Our life on the hill is everything but boring. We follow our passion and hobbies, meet friends, entertain guests, read, download and watch movies, video chat with friends and family all over the world. Our internet connection is great."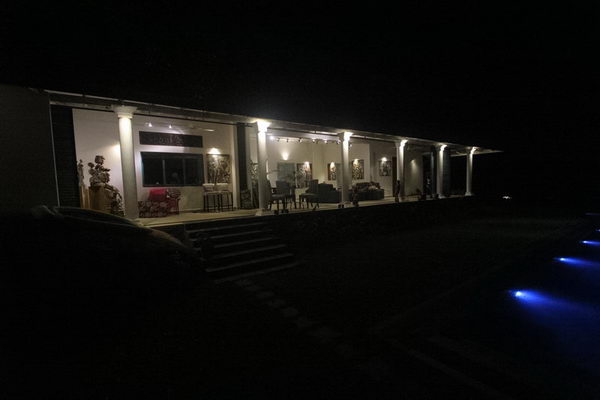 And here is how a perfect life looks like after dark.
Owner's statement:
"After dark we often take a hot bath in the twin tub on the first floor balcony."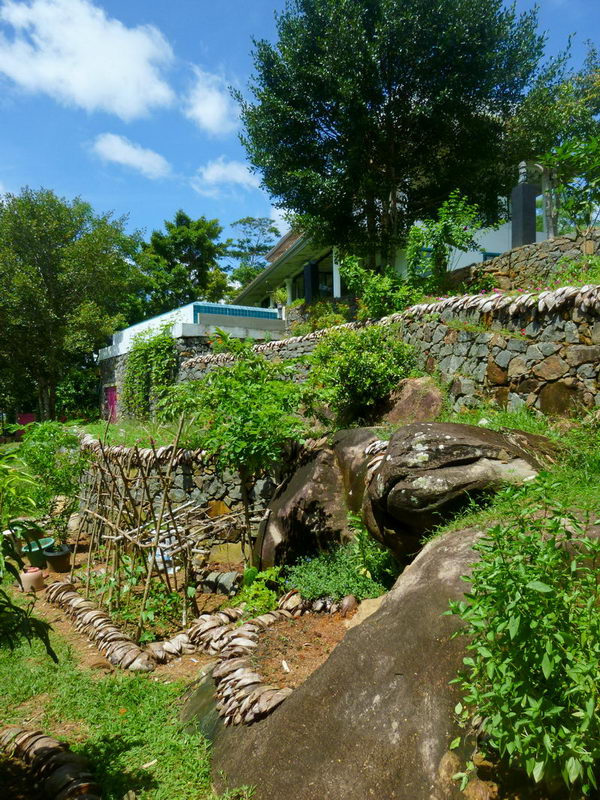 The garden terrasses.
.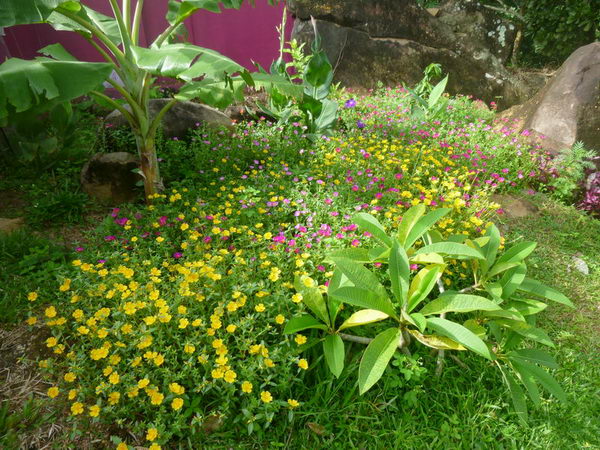 After less than a year the garden is full ornamental plants and also provides melons, tomatoes, salads, raddish, spices and kitchen herbs like basil.
Owner's statement:
"There are 365 days of good weather at this magic spot - because we have a house perfectly fitting the local climate. We haven't run our AC in over a year now."
Call: +94-77-621 65 82
Email: info@cinnamonheightsestate.com
Details of the small turn-key villa for 148,000 USD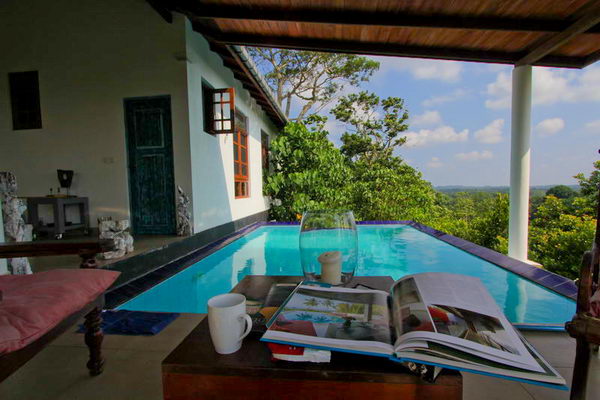 This one is for sale. You can move in tomorrow. If you want any modifications we can handle that.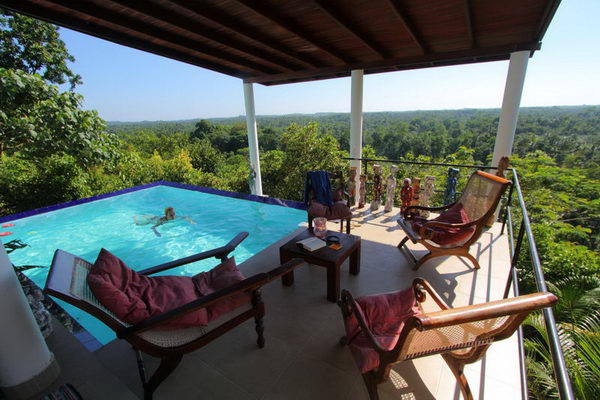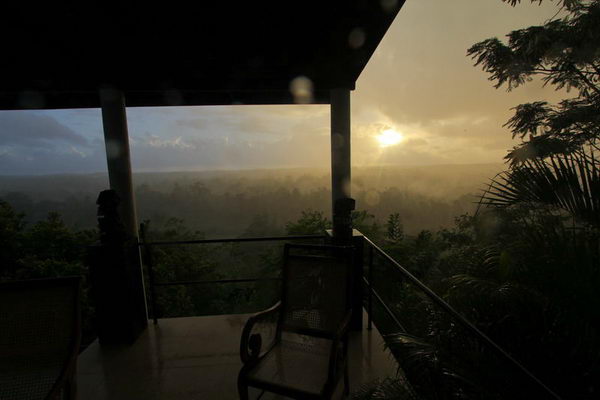 Spectacular sunsets!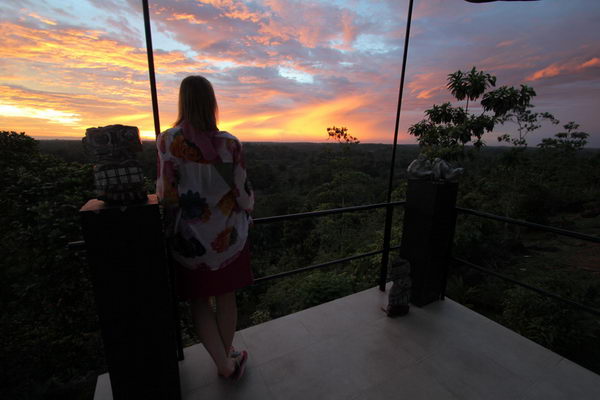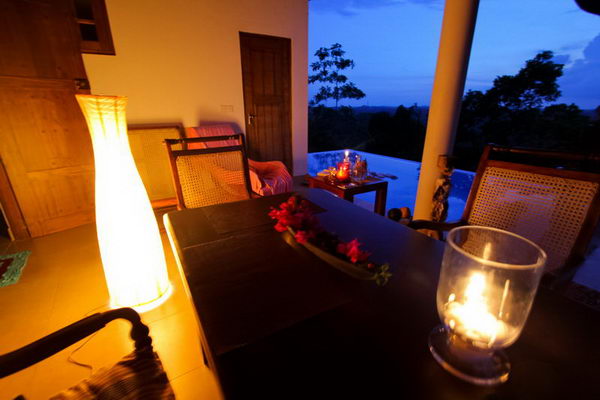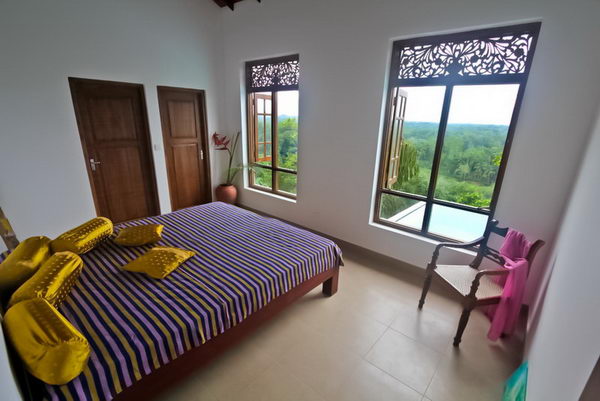 Master bedroom with fantastic view over pool and 10 km to the west.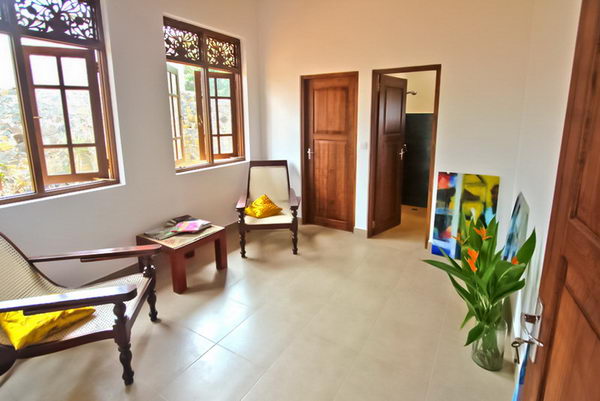 Second bedroom, facing east. Left door: walk-in closet. Door right next to it: to bathroom that is shared by both bedrooms.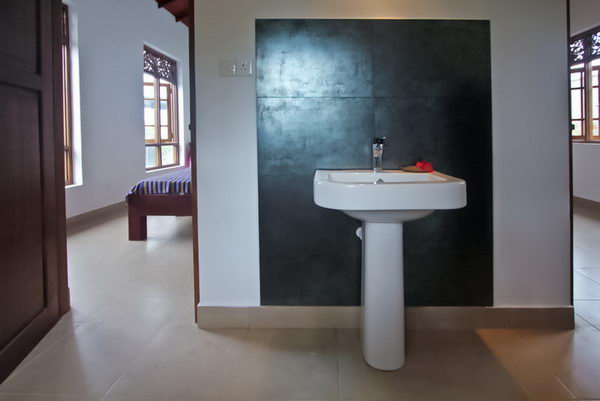 Bathroom with left door to master bedroom and right door to second bedroom.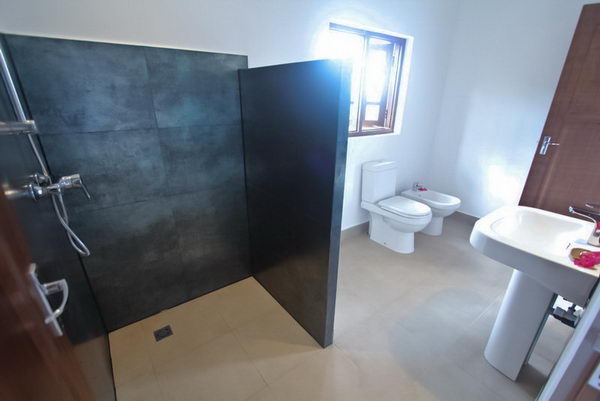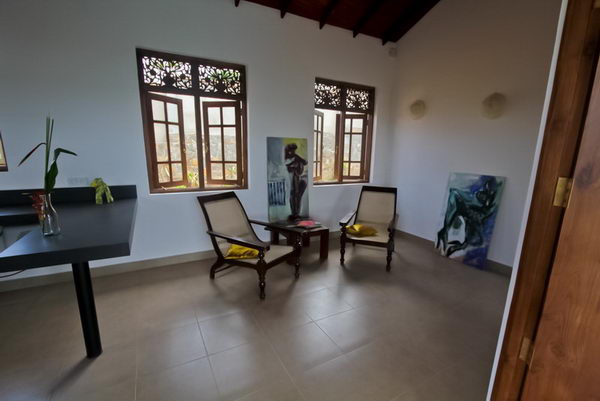 The sitting area with open kitchen.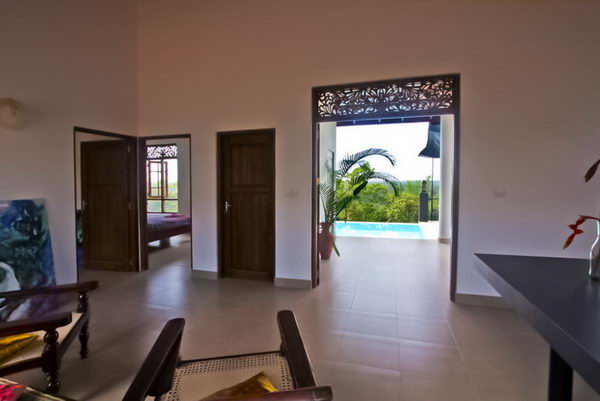 Doors (from left to right): to second bedroom, to master bedroom, to veranda.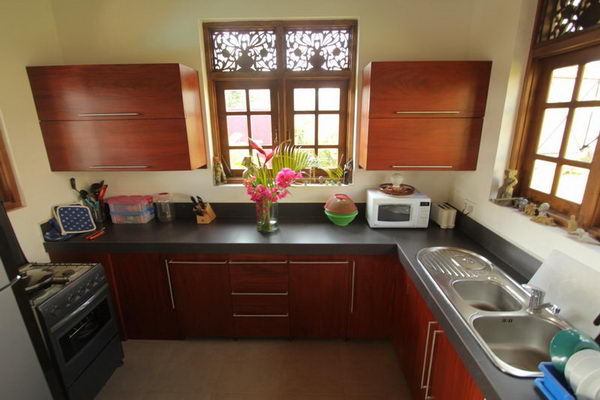 Call: +94-77-621 65 82
Email: info@cinnamonheightsestate.com
Turn-key or custom construction?
If you want to live on Cinnamon Heights Estate you might move into the small villa that's for sale. If you fancy a larger house we'll build one for you within a year's time.
You define the size of the house. We help you find the perfect architect and contractor.
You profit from our experience! We already built three houses on Cinnamon Heights Estate. The following house might be to most intelligently designed villa in Sri Lanka.
If you want to find out about the lifestyle on Cinnamon Heights feel free to call and we'll arrange a meeting with the artist couple permanently living here.
Call: +94-77-621 65 82
Email: info@cinnamonheightsestate.com